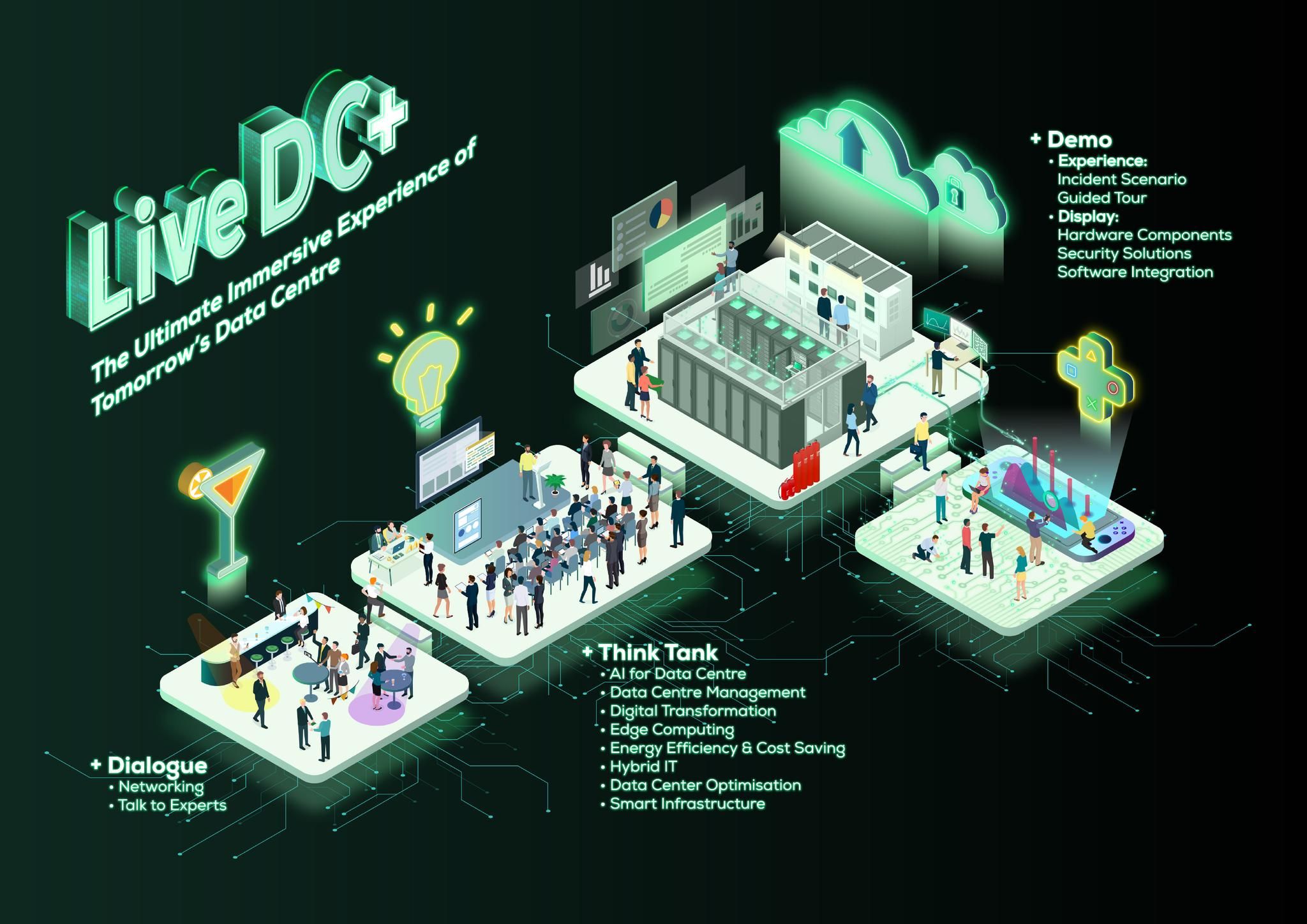 EXPERIENCE THE FUTURE DATA CENTRE
Something new in the 4th edition of most-favourited Live Data Centre! Instead of merely displaying the components, Live DC+ is going to offer an ultimate immersive experience of seamless integration between software and hardware applications – a fully functioning data centre with real time operative demonstrations that keep you safe from physical harms and data security breaches.
Together with talks and networking area around an open stage, this year's Live DC+ aims to facilitate a neutral and open approach for visitors to explore technological innovations that best serve their business needs and to see the actual results.
+DEMO: DATA CENTRE BUILT WITHIN 48 HOURS
Product Showcase:
Artificial Intelligence
Access Control System
Batteries
Busbar
Cabling
Cooling System
Data Centre Maintenance
Data Centre infrastructure management (DCIM)
Digital Transformation

Edge Computing
Fire Suppression System
Leak Detection
Power Monitoring
Racking & Cabinets
Network Security
Power Distribution Units (PDUs)
Power Generator
Switchgear
Uninterruptible Power Supply (UPS)
+THINK TANK: EXPERTS' SHARING ON STAGE
As business needs change and capacity requirements increase, how will you adapt your data centre to maximise energy efficiency and reduce operating costs and ultimately manage an ever changing, expansive landscape? +ThinkTank will equip you with an array of solutions. Hear from the industry experts and the world's leading data centre suppliers to give you a competitive edge in building, running and maintaining your data centre.


Essentials of Data Centre operations track
+DIALOGUE: NETWORKING OPPORTUNITIES
We aim to create a relaxing environment steering away from traditional B2B trade exhibition style format, to bring everyone in data centre industry together and make valuable connections and lively discussions aside from social media posts and email chains. Never underestimate the power of talking face-to-face!
See some of the precious moments from last year!
HEAR FROM THE INDUSTRY PLAYERS...
We're happy to join Data Centre World this year. We're looking for technical clients and have met them at this event so we got a good amount of contacts. We are sure to return next year.

We really like this venue hall. It's important that Cloud Expo Asia and Data Centre World are so close together so everyone can easily mix and present together. We have had good conversations on our booth today.

We have received quite a good quality and good contents of the people. We have the right audience, we have been addressing the right content for the right people. For us, this exhibition tells us what Siemens does in the Data Centre industry and it is a perfect window for us to showcase the complete solutions of Siemens to the Data Centre World. Siemens plans to come back and return to the show next year as well.

The latest and hottest products and IT topics can be found here. It is the most representative IT exhibition in the region, you will never be disappointed if you are interested in any of the following topics: cloud, cloud security, big data, data centre and IoT. You can find everything you need for your company in this brilliant exhibition.

The infrastructure on show is amazing and there is so much variety here. It's fantastic – everything from analytics through to data centre and it is really interesting to see other parts of technology that I don't necessarily work with. I came away from the event knowing so much more than when I arrived and I made some amazing contacts. A rewarding two days!